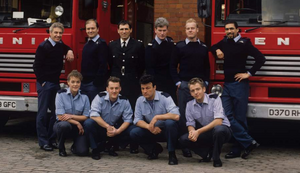 Blue Watch
is one of four operational watches (or shifts) used at fire stations throughout the UK (the other watches are red, white and green). Members of Blue Watch at
Blackwall
are the primary focus of
London's Burning
.
Over the show's run, 36 permanent members of Blue Watch were seen; George Green was the longest lasting character, appearing in all but two television episodes and the original television movie. The shortest lived was Chris 'Skippy' Newman, who lasted six episodes. Bert 'Sicknote' Quigley was the last survivor from the pilot movie. Members of other watches or stations, such as Jaffa Parrish or Clingfilm, occasionally stood in at Blue Watch for absent regulars. 'Liver Salts' was a former member of Blue Watch and visited the station a few years later. Fireman Anderson joined Blue Watch at the end of the movie but was not seen again. Gregg Blake was a firefighter who appeared for a whole season.
Seven members of Blue Watch died on duty (Hallam, Quigley, Lewis, Cartwright, MacKenzie, Georgiadis, Walker), four retired due to injury or ill health (Tate, Parrish, Blake, Newman), six left the fire brigade (Cross, Sanderson, Wilson, Ray, Morgan, Barratt), and six transferred to other stations or divisions (Appleby, Ingham, Stevens, Reid, Medhurst, Hammond). Five left for unknown reasons (Baines, Webb, Sharpe, Coleman, Silver).
When Kevin Medhurst won a pedigree greyhound in a poker game, he named it Blue Watch.
Composition of Blue Watch, 1986-2002
Edit
Series 5
Series 6
Series 7
Series 8
Series 9
SO
Georgiadis
Georgiadis
Georgiadis
Georgiadis
Georgiadis
Sub
Hallam
Hallam
Hallam
Hallam
Hallam/
Webb
LF
Cross
Pearce
Pearce
Pearce
Pearce
FF
Wilson
Wilson
Wilson
Wilson
Quigley
FF
Quigley
Quigley
Quigley
Quigley
Green
FF
Green
Green
Green
Green
MacKenzie
FF
Medhurst
Medhurst
Medhurst
Medhurst
Ray
FF
Parrish
Parrish
MacKenzie
MacKenzie
Morgan
FF
Stevens
MacKenzie
Ray
Ray
Newman
FF
MacKenzie
Ray
Reid
Reid
Appleby
Series 10
Series 11
Series 12
Series 13
Series 14
SO
Georgiadis
Hammond
Hammond/
Coleman
Coleman
Callaghan
Sub
Webb
Pearce
Pearce
Pearce
Pearce
LF
Pearce
Barratt
Barratt
Sharpe
Benjamin
FF
Quigley
Quigley
Quigley
Green
Green
FF
Green
Green
Green
MacKenzie
MacKenzie
FF
MacKenzie
MacKenzie
MacKenzie
Fields
Fields
FF
Ray
Morgan
Walker
Benjamin
Mooney
FF
Morgan
Walker
Fields
Silver
Mead
FF
Blake
Fields
Sharpe
Ross